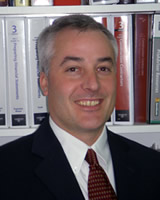 Todd Wimette, CPA
Member – Wisehart, Wimette & Associates, PLC, a Certified Public Accounting firm located in Essex Junction, Vermont.
Areas of experience:
Certified Public Accountant
Financial auditing and accounting – Supervise, review and perform audits of the financial statements and financial accounting records for numerous large and small not-for-profit organizations and businesses in various industries.
HUD project audits and cost certifications – Perform audits of HUD projects in accordance with generally accepted government auditing standards and the HUD audit guide, and execution of HUD cost certification in accordance with the HUD Audit Guide.
Employee benefit plan auditing – Supervise, review and perform audits of employee benefit plans, specifically 401(k) and health and welfare benefit plans.
Single audits – Supervise, review and perform single audits of federal funds expended in accordance with OMB Circular A-133.
Internal control evaluations – Documentation and testing of internal controls, focusing on identification of control weaknesses and providing recommendations for improving the effectiveness of the internal control system.
Sarbanes-Oxley compliance – Assisted in the design, execution, and on-going monitoring of Sarbanes-Oxley compliance project for a publicly traded software company.
Income taxes – Tax planning and preparation for individuals, businesses and not- for-profit entities.
IT Systems – Performance of IT system evaluations.
Professional associations and civic organizations:
Vermont Society of Certified Public Accountants
American Institute of Certified Public Accountants
Coach of local youth sports teams
Education and training:
Clarkson University, Potsdam, NY – Masters of Business Administration – Accounting
Castleton State College, Castleton, VT – Bachelors of Science in Business Administration – Accounting
Continuing professional education – Minimum of 40 hours per year